Applications - Classifieds


Works on the freemium model, allowing individuals to post ads for free, to create content volume and traffic - Simple for users to create, no designer input necessary (Yet, entertaining and valuable as content, not just ads).


Then upgrades for serious individual advertisers and commercial advertisers – Just like telephone yellow pages
- With photos and logos for extra payment (Easy to post)


"Classifieds" are text ads
-Seldom used in Japan online because most individual advertisers sell things on Yahoo Auctions or similar sites. But classifieds allow the sale of services, education, seminars, and other intangibles, as well as personal notices


Classifieds are good business
-In the USA, classifieds are a very profitable way to engage audience, www.craigslist.com generates US$100m a year [source]
-Our partner Metropolis magazine operates a successful classified ads business, that forms the basis of our knowhow, and which we are happy to share with partners (Servicing 70,000 readers, one admin person, no sales costs)
-Cheap to post, cheap to sell (no salesperson visits needed)


Non-commercial organizational ads (NPO announcements, etc.) are free, unless upgraded to photo, etc.

Classifieds Features
Users can post ads, access a list of ads they posted to check which are still active, re-post the old ones


Users can bookmark ads that catch their attention, and review the list of bookmarked ads


Ads can include images, embedded videos, and maps


User accounts can be shared with WordPress or any openID provider such as Google Accounts


Various areas can be customized for messages to users or advertisement banners


Administrator management panel includes security and control features such as moderation, detecting multiple ads by the same user, detecting multiple accounts from the same IP address, etc


Categories, pricing can be configured to match the target market

Classifieds Workflow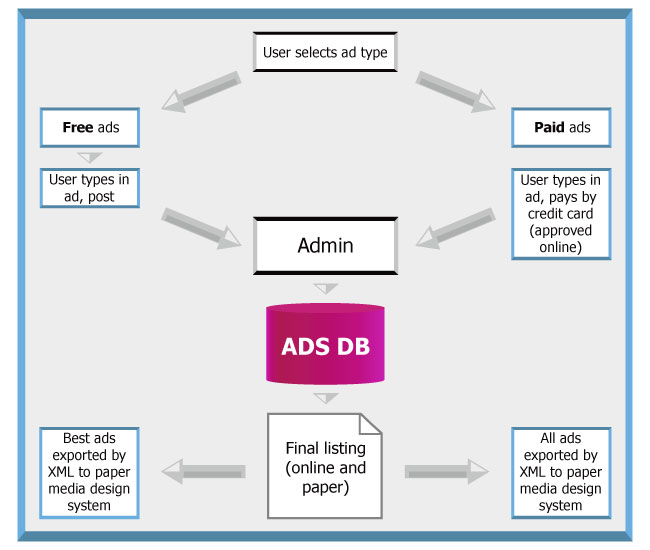 Test drive? Contact us for sandbox fully-configured test version now.